I love shopping on Etsy – lately, I've been shopping there a lot.  It feels good to know you're helping an individual, as opposed to a large corporation!  Also, it's a great way to get original goods that other people won't have.
That's how I came across Original Cowgirl.  They were featured on Heartsy – if you haven't heard of Heartsy, it's like Groupon for Etsy – they have daily deals to various Etsy shops.  They are a great way to get good deals and find new stores!  Anyway, Original Cowgirl was featured on Heartsy.
I was looking for a shirt for the Breast Cancer Awareness walk I was going to do, and I just loved their Fight Like a Girl shirt!  It got to my house the day before the race, and I got so many compliments on it!  However, they accidently sent an XL when I had ordered a large.  I was fine with that – it was nothing that an extra long spin in the dryer couldn't fix, but I dropped her a note just to let her know.  I know small businesses usually like to know when they've made a mistake.  Abigail immediately e-mailed me back offering to send me another shirt.  I told her that I really didn't need another of the same shirt, but if she wanted she could send me another one that had caught my eye – the Ridem' Cowgirl- V-neck Burnout in Pomegranate.
I'm so glad she decided to send it to me!  I love this shirt – it's one of the softest shirts I've ever owned, and I love that it's printed with organic inks.  The Burnout effect on the shirt gives it almost a puckering type look, which make it look really good on!  I've only worn it once, and I've already gotten compliments on it!  Little Miss took this picture of me in the shirt.  I also love their I've Got a Cowgirl Attitude shirt – maybe that's what I'll get next time!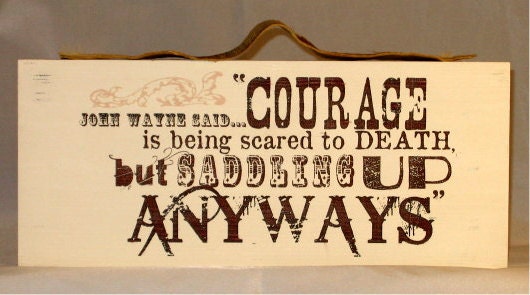 In addition to awesome shirts for cowgirls, they have sassy wall signs that are sure to make you laugh, shirts for your cowboy, and even boyshorts!  I'm sure that someone on your list would love an Original Cowgirl item!  They also have a new website with jewelry, purses, hats, and more!  I hope you'll go check them out!